Should You Install Hardwood In Your Kitchen?
We cherish the dazzling natural beauty that genuine hardwood flooring adds to our homes, as well as the inherent durability, rustic charm, and value they retain over time. Perhaps this extra time at home has you envisioning new style upgrades in your home and hardwood is a leading flooring contender! Whether you love a trending farmhouse chic aesthetic or cool coastal vibe, Vic's Carpet & Flooring has all of the incredible wood options that will make your home shine. If your design refresh extends to your kitchen, however, there are some specific considerations to think about.
Exposure to Moisture
It goes without saying—installing hardwood in your kitchen means it's more likely to be exposed to moisture. This is problematic for wood floors since liquid can seep into the pores of your planks and result in cracking, cupping, discoloration, and oxidization to the point that planks will need to be replaced. If you have active little ones or pets that create frequent spills and accidents, it would be wise to investigate waterproof luxury vinyl, laminate (below), or wood look tile, which are better suited to handle moisture. This will save you frustration and potential money down the line. If you are determined to continue with hardwood, make sure you opt for engineered hardwood over solid hardwood, as engineered hardwood is better suited to handle moisture.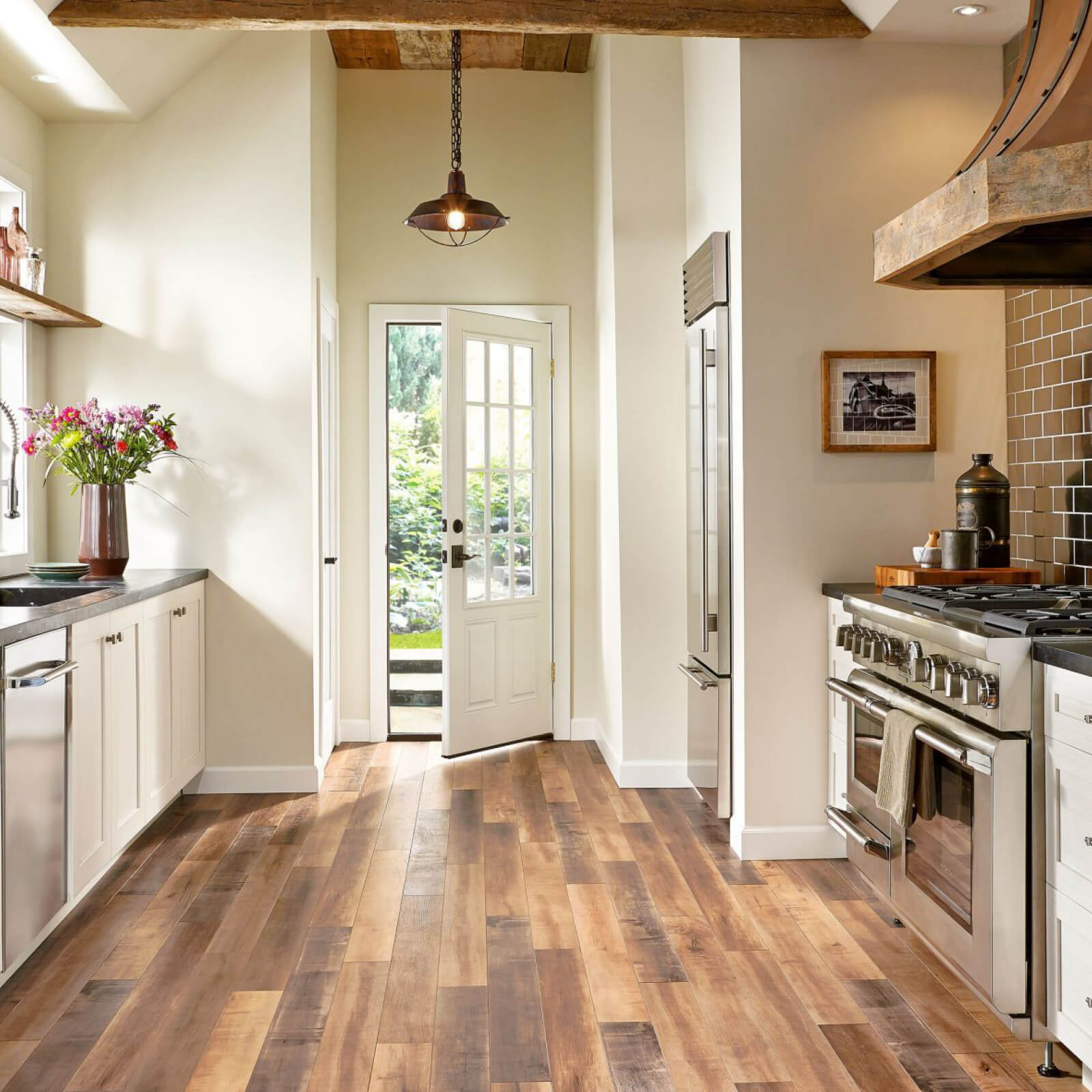 Clean-Up Routine
As we spend ample time in our kitchens preparing delicious meals, getting snacks, and pouring drinks, spills and messes are inevitable, and hardwood will require a careful cleaning routine to properly deal with these. You will need to avoid steam cleaners, vacuums without wood floor attachments, and professional-grade cleaning products that include vinegar, bleach, or wax. Improper cleaning supplies and practices can damage your hardwood. If you don't want to worry about cleaning your hardwood as extensively, you might wish to invest in a waterproof flooring option instead.
Installation Factors
As much as we love our hardwood floors, they require professional installation and come with the priciest installation price tag. If you have a full home right now with adults working from home and kids learning at home, hardwood installation might be a disruption, as it will involve the removal of old flooring and careful subfloor preparation. For some homeowners, this will be too much stress during the current conditions. However, laminate and luxury vinyl products feature plank locking systems that ensure floors are finished much quicker, often in a single day, than a comparable hardwood floor that would take about a week.
Style Matters
Many homeowners will argue that for the beauty they desire, there is no comparison to genuine wood. However, the innovative manufacturing techniques of today's luxury vinyl and laminate options produce fashion-forward varieties with eye-catching realism and authentic texture, whether you want modern, contemporary, traditional, or vintage appeal. Luxury vinyl and laminate visuals are even drawing inspiration from aged, weathered wood that is technically unusable for a home.
No matter what wood look and product that you determine is the right fit for your home, consider placing stylish area rugs throughout your kitchen to offer additional protection. Browse through our ' for the latest styles. Then, come visit Vic's Carpet & Flooring in Oconomowoc, WI and our flooring experts can help you explore the stunning surfaces to complete your pristine kitchen!